Our Home
The incredible beauty that surrounds Valemount is what brought Rudi and Patricia to the area and is what keeps them here.
Valemount is the ideal mid-way stop between Vancouver and Edmonton. It's also a great starting point for a day-trip to the famous Canadian Rocky Mountains World Heritage Site of Mt. Robson Provincial Park.
The Restaurant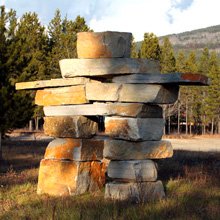 Coincidentally, Canada's Nunavat, like the Caribou Grill, was created in 1999 and the Inukshuk was the chosen symbol for this newly created territory. The Inukshuk was also the symbol for the 2010 Winter Olympics as it also symbolizes teamwork, friendship, trust and our dependence on each other as navigational guides through life's journey. Our parking area is marked by the stone Inukshuk (pictured above), which was used as a navigational beacon by travellers and caribou hunters of the barren Canadian tundra.
Thank you for choosing to explore the Caribou Grill Restaurant in Valemount, British Columbia!
Click on any image to view a larger version.
Directions
The entrance to town is marked by a lovely log arch. Continue down 5th avenue and to your left (just before the railway tracks) you will see the Caribou Grill Restaurant.